About-Spain.net - the alternative guide to Spain

Page in preparation - work in progress
Lying at the far northwest tip of Spain, surrounded on two sides by the Atlantic and one its southern border by
Northern Portugal
, Galicia is a region of Spain that is very different from most others.
Main destinations in Galicia.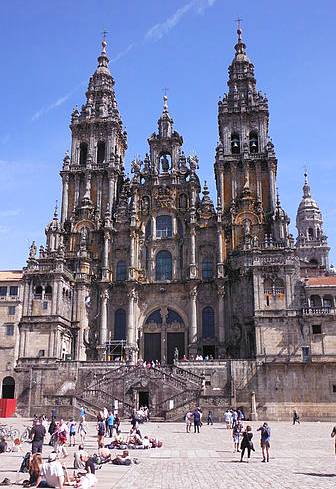 Basilica of St.James - Santiago de Compostela
Santiago de Compostela .

Capital city of Galicia, major 12th century basilica, shrine of St. James the apostle, and end of the historic Pilgrimage trails

A Coruña

- Galicia's largest city

Lugo

- Lugo is remarkable as the only city anywhere to have conserved a full set of Roman walls, With their 71 towers, the walls cover a distance of over 2 kilometres, and are listed as a UNESCO world heritage site.

The coasts

- Galicia has large expanses of sandy beaches, washed by the Atlantic, and miles of coastal hiking trails.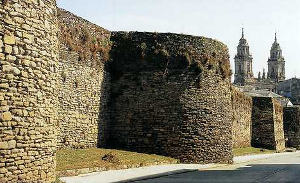 The roman walls of Lugo, Galicia -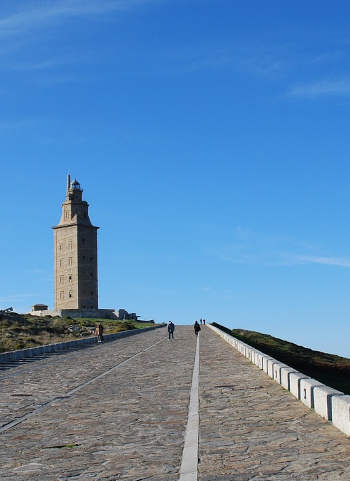 The Tower of Hercules - A Coruña - a lighthouse siince Roman times
For the independent traveller, a choice of hotels and hostales
►
Select city & star rating
for a broad choice of hotels and the best discounted online booking rates available.
These links will take you to
Booking.com
, Europe's leading online hotel booking portal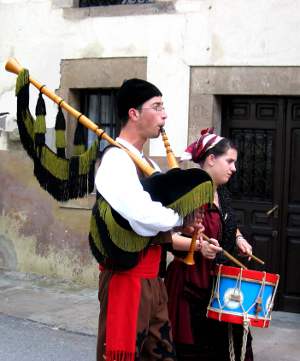 Celtic Spain -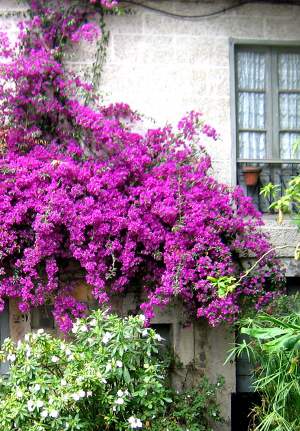 Bougainvillia grows profusely in the mild atlantic climate of coastal Asturias
Getting to Galicia:
By car
via the southwest corner of France, San Sebastian and Santander.
By ferry:
Brittany ferries operate direct ferries from Portsmouth and Plymouth to Santander in neighbouring Cantabria. LD Lines sail from Saint Nazaire (France) to Gijon.
Fly to Galicia:
Information coming
Neighbouring regions :
Go further south....:
Photos and text copyright About-Spain.net
Except photo top of page by Sitoruiz
Walls of Lugo. Photo J.M.Lage