Some useful sources of accommodation information:

Map of Extremadura by About-Spain.net enhanced from an original from the open-source OpenStreetMap.org.

Map of Extremadura
The autonomous community of Extremadura - capital Mérida.
Map showing the main sites of interest for tourists and visitors, and the principal road network. For information on the places mentioned on this map, see the About-Spain.net Extremadura guide page.

UNESCO World Heritage Sites
in Extremadura:
Roman archaeological ensemble of Mérida, Old town of Caceres, Royal Monastery of Guadalupe
UNESCO Biosphere Reserve - Monfragüe National Park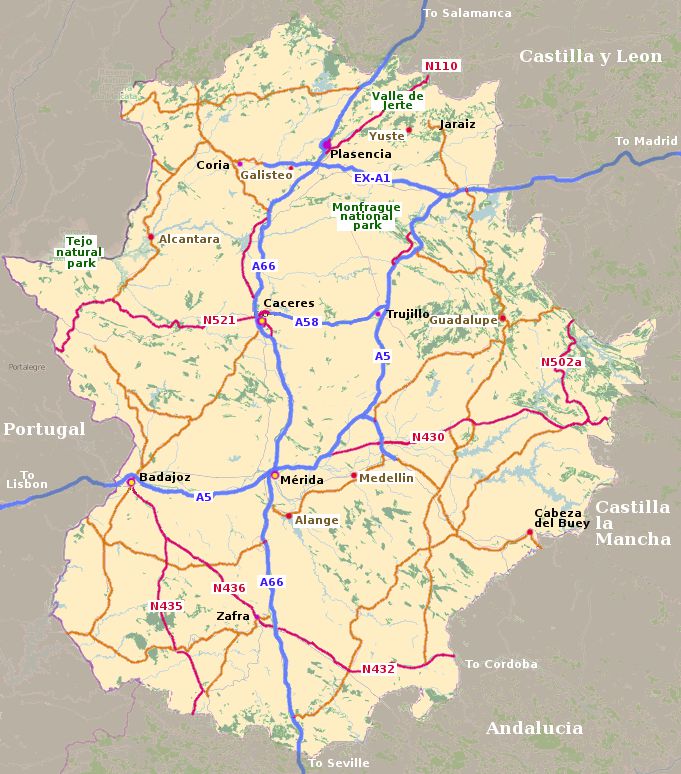 More maps:

Route planner map of Spain
Extremadura airports
Extramadura has no airports except a small airport in Badajoz, served only by a few domestic flights.
The nearest

international airports

for Extremadura are Seville in the south, or Lisbon or Madrid
► Return to Extremadura tourism guide