Route planning map of Spain - main routes and towns
► ► Road map of Spain
The map below shows the main towns and cities of Spain, and the main road network.

Free motorways are shown in blue,
Spanish
toll motorways are shown in red.
Main roads (mostly modern single carriageway roads) are in green.
See below for best route avoiding Spanish tolls
What is the difference between

autovias

and

autopistas

? See Driving in Spain
Click here for low cost car hire in Spain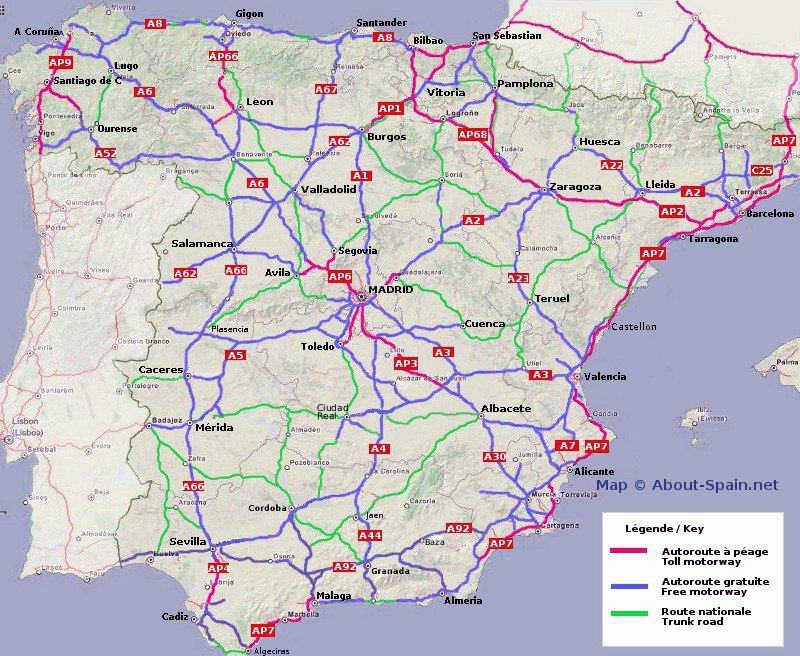 Main toll motorways in Spain:
Toll rates as of December 2018
AP1 - Irun (French border) to Burgos
(Car toll : 22.80 € )
AP2 - Barcelona to Zaragoza (
Car toll : 32.45 €
)
AP7 - La Junquera (French border) to Alicante (with some free sections -
Car toll 2012 : 63.00 €
)
AP68 - Zaragoza to Bilbao
AP8 - San Sebastian to Bilbao (
Car toll : 13.15 €)
AP9 - Ferrol (north of A Coruña) to Vigo
Motorways in the Madrid area

Madrid is a maze of motorways, and unless you really want to drive into Madrid, then the best bit of advice is "Don't". The M50, which is just visible in the bottom corner of this plan, goes 80% of the way round Madrid, and is the outer orbital motorway - and for this reason less busy than the M30 or M40.
Most motorways in the Madrid urban area are free, but the radial "R" motorways are toll, as are
some
of the M motorways - but not the orbitals.
For a detailed zoomable online maps of Spain, AboutSpain.net recommends
ViaMichelin
Copyright : Texts and photos
© About-Spain.net 2009 - 2018
Map by About-Spain.net enhanced from an original from the open-source OpenStreetMap.org.
Madrid motorway map by Faelomx, reproduced under Creative Commons licence