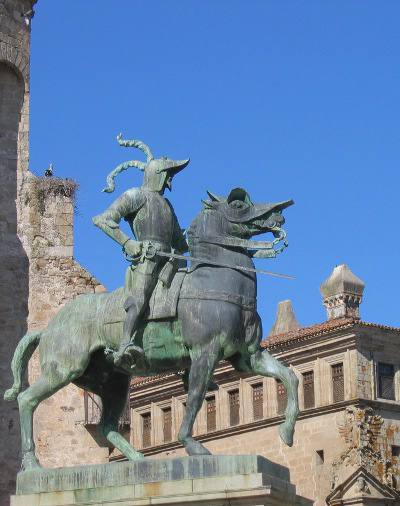 Trujillo - bronze statue of the conquistador Francisco Pizarro

This page is about the Spain that most tourists never visit – the Spain of vast open spaces, mountains and nature reserves, historic towns and villages, amazing castles and walled cities, ancient churches, monasteries and chapels, and a cultural history that is a fusion of three great religious heritages, Christianity, Judaism and Islam.
Nowhere else in Europe did these three cultures come together as they did in Spain - a fact that helps to make Spain such a unique country with so much to offer the intelligent traveller.
Obviously, no parts of Spain are really "undiscovered", and few are totally off the tourist trail; but in many parts of Spain, tourism is almost exclusively Spanish - in excess of 90% even in some places that have everything to offer, including history, monuments, natural environment and accommodation.

Where's where? See map of the Spanish regions


Extremadura
If it were possible to designate a "capital" of undiscovered Spain, it would have to be the region of Extremadura - a region so undiscovered that few people outside Spain have ever heard of it. Located between Castile and the Portuguese border, this is a large sparsely populated region - larger than Belgium - that can boast three UNESCO world heritage sites, other European heritage sites, plus several natural heritage areas - not to mention little towns and villages with remarkable features that are not even mentioned in local guide books. But it is on the route for anyone driving from the north of Spain to Andalucia using the little-used A66 motorway, or the main route from Madrid to Lisbon.
In the 16th century, most of his courtiers were surprised when the great Hapsburg Emperor Charles V - born in the Netherlands - chose to spend the last years of his life in a monastery in Extremadura; but the few tourists who visit the former monastery at

Yuste

should not find it difficult to understand.
Most of Extremadura's few towns are worth a visit.

Merida

, with its fine Roman remains that are among the best in Spain,

Caceres

with its unique Renaissance cityscape,

Placensia

with its walls and its fine cathedral,

Trujillo

- surely one of the most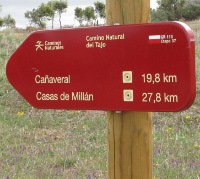 interesting and attractive small towns in Spain. East of Trujillo, in the sierra for which it is named, lies the Royal Monastery of

Guadalupe

, one of the finest in Spain, and another world heritage site; as well as its impressive architectural ensemble, the monastery contains many works of art by Spain's greatest artists. Obviously, these towns and monuments are at in the tourist guides; but the same cannot be said for plenty of other interesting spots, beautiful small towns like

Garovillas

, with its large whitewashed arcaded plaza, or

Galisteo

, a small walled town completely encircled by intact mediaeval ramparts.
As for the natural environment, Extremadura with its parks, mountains, hiking trails, cycling trails and vast open spaces, is a region where getting away from the crowds is a way of life. While the mountains and valleys of the

Monfragüe

national park are attracting a growing number of visitors on account of their relatively easy accessbililty from the Madrid-Lisbon motorway which passes through Extremadura, the

Sierra de Gata

, close to the Portuguese border, is an area that is about as remote as any you can find in Europe. Both of these areas - as indeed the whole of Extremadura - offer marvellous opportunities for outdoor pursuits, and notably bird-watching; storks are everywhere - but the region is also home to many types of falcon, eagle and vulture, great bustards, blue magpies, and a huge variety of smaller birds. Click for more on Extremadura


Castile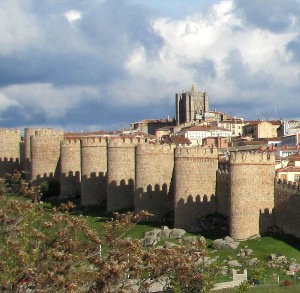 The ramparts of Avila

The heartland of Spain,

Castile

is these days two of the large regions of central Spain, surrounding, but no longer including Madrid; it is an area in which are found several of Spain's most fabulous cities - places that are well off the tourist trail for most visitors to Spain, but very much on it for those in the know.


To the north and west of Madrid lies the region of Castile and Leon. In this region

Salamanca, Segovia, Avila,

and

Burgos

are four cities with a fabulous cultural heritage, and all classed as UNESCO world heritage sites. Salamanca, seat of one of Spain's greatest and most historic universities, boasts a magnificent cathedral and Plaza Mayor. Segovia, at the foot of the Sierra Guadarrama, is a beautiful old city with castle, cathedral, old city and the finest Roman aqueduct in Europe. Avila has the greatest, best preserved and most complete set of city walls in Europe, as well as a magnificent cathedral. And Burgos has a great mediaeval cathedral.
South of Madrid, in the region of Castile la Mancha, stands Toledo, built on a hill in a bend of the River Tagus (Rio Tajo) and once the capital of Spain. The city is like a living museum of the history of Spain. A Roman bridge, Moorish monuments from the Middle Ages, the oldest synagogue in Europe, wonderful examples of Mudejar architecture - that uniquely Spanish blend of European and Moorish styles, a gothic cathedral and several late Renaissance monuments are among the many sights that have drawn in travellers for hundreds of years. Toledo was for a long time home to one of Spain's greatest artists, El Greco, and the city's El Greco museum is just one of several places with a fine collection of the artist's works.
But beyond these centres, Castile has much more to offer, including countless sites and sights well off the beaten track.
While a few sites like the stunning romanesque monastery of

Santo Domingo de Silos

, near Burgos attract large numbers of tourists - mostly Spanish or pilgrims - many other magnificent fortresses and beautiful mediaeval churches, though preserved and often well renovated, have very few visitors.

Medina del Campo

, on the plains of northern Castile, has one of the largest and finest Mudejar fortresses in Spain: but get further off the beaten track, just wander along the byroads of Castile, and marvel at the great castles or fine churches that grace sleepy villages and small towns that see few visitors. There is no way to list them all, as in Extremadura many fine historic monuments do not even get a mention other than in the most local of local tourist offices - and even then, not always. Visiting hidden Castile is journey of discovery from which the traveller can return with unique stories.

Aragon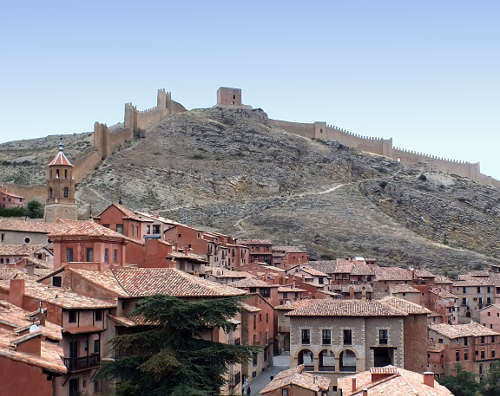 Albarracin, near Teruel

One of the most underrated parts of Europe in terms of tourism, Aragon suffers from the fact that it is seriously off the tourist trail. Its capital Saragossa (Zaragoza) is the fifth biggest city in Spain, but even in Spain a lot of people do not know where it is.
Aragon covers a good part of central eastern Spain, stretching from the Pyrenees in the north, to the border with Valencia in the south. To get there visitors coming from the north either need to come via the Mediterranean motorway, then turn inland, or enter Spain at Irun, at the western end of the Pyrenees, and turn inland from there. The alternatives are to take one of the rare trans-pyrenean routes from France (the Bielsa tunnel or the Vielha tunnel) which lead directly in to Aragon.
The striking feature about Aragon is how dry it is. To all intents and purposes, the area all round Saragossa is desert - not sand-desert like the Sahara, but scrub desert with little nautral vegetation beyond grasses and waist-high bushes. For thousands of years, men have toiled to tame the desert, and many parts are now irrigated, or cultivated for seasonal crops that can be harvested before the heat of summer; but Aragon is dry. Teruel, in the south of Aragon, has Europe's only outdoor air-liner storage facility, like those in the Mojave valley in California, where surplus passenger jets stand idle on the tarmac in a place where rain falls on less than 60 days a year. And that's more days than in many other parts of Aragon.
Put in a nutshell, almost everywhere in Aragon is off the beaten track, except for Saragossa. The region is crossed from North to South by the (freee) A23 "Mudéjar motorway", from which many of Aragon's striking sites and monuments can be easily reached. These include the amazing small walled wity of Albarracin (a Unesco world heritage site, so a place that gets quite a lot of tourists in summer), or further north the historic walled city of Daroca. Historic Teruel is the best place in Spain to admire decorative medieval Mudéjar architecture, buildings built in the Moorish style, but after the Christian reconquest of Aragon from the Moors.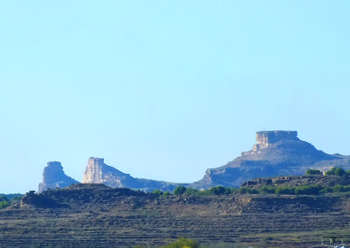 Torollones de la Gabarda,Spain's unknown Monument valley

An alternative route from Saragossa to Teruel is to take the A222 > N240 route via Belchite, Muniesa and Utrillas - a fine road with virtually no traffic and spectacular views of the Aragon semi-desert. Old Belchite is a remarkable place to visit, when it is open. The city was devastated in the Spanish civil War in 1938, and has remained in ruins ever since, a monument to the horrors of war. Not surprisingly perhaps, it is not a place that Spain's tourist authority does much to promote, so visitors are few and far between.
In many parts of Aragon, landscapes are reminiscent of the American west, on a slightly smaller scale. Vast open spaces, weather-beaten red and white rock formations, gulleys and canyons. For instance thirty kilometres south of Huesca, the rock formations of the Torollones de la Gabarda are like a small version of Arizona's Monument Valley... but completely unknown, while a couple of kilometres further east a similar bluff at Alberuela de Tuba is capped by the extensive ruins of a medieval castle.
To see Aragon while en route for the south of Spain, see no tolls through Spain





Some useful sources of accommodation information:





Text and all photos on this page copyright © about-spain.net 2010-2014

Click for Undiscovered France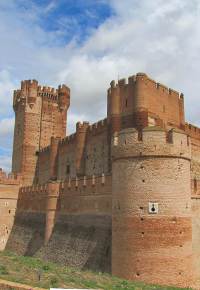 Mudejar fortress at Medina del Campo, Castile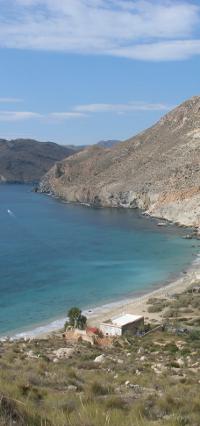 Off the beaten track on the Spanish coast