►► Spain -
a thematic guide:
Spain - the country


Essential information about Spain.
Travelling in Spain
Getting round in Spain - by car, by coach by train, or on foot
Tourism in Spain

Where to go and what to see
Accommodation in Spain
Where to stay, and the different options available
Camping in Spain
The Spanish way of life

Spain is different; all you need to know about Spanish habits, opening hours, dining hours and other facets of Spanish life.
Coming soon...
Text and all photos on this page copyright Š About-Spain.net 2012-2017
Click for our companion

About-France.com guide to France

The Mediterranean coast of Spain
Spain's Mediterranean coast offers a range of opportunites for holidaymakers and travellers, depending on the type of holiday wanted. Cheap-deal package trips tend to be based on the many major modern resorts that grace the coast from north to south. Great resorts, like Torremolinos near

Marbella, or Benidorm on the Costa Blanca south of Valencia, or Lloret de Mar on the Costa Brava are just three among dozens of generally characterless resorts catering for waves of tourists from northern Europe, in search of a week or two of lazing on the beach just a stone's throw from their tower-block hotel. Admittedly, some of the worst atrocities of the headlong rush into tourism that occurred along the Spanish coast in the1960's and 1970's have now been pulled down or seriously remodelled; but at the same time, until the economic crunch that - since 2007 - has largely brought things to a standstill, massive development saw long stretches between Barcelona and Algeciras transformed from traditional Mediterranean coastline, into ribbons of modern city with their accompanying leisure facilities of marinas, aqua parks, golf-courses, multi-lingual multiplex cinemas, and all the rest.
Development has been most intense in the neighbourhood of the coast's main airports; Girona, Barcelona, Reus, Valencia, Alicante and Malaga, in areas that are easily accessible. Yet even in the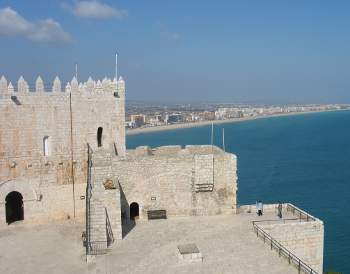 busier tourist areas, there are some small coastal towns that retain their character. Though its suburbs have developed into a large resort, the historic small city of Peņiscola, with its city walls, its Templar castle, and its fishing port, comes as a delightful contrast to the modern resorts and housing developments all round.
Development has been most intense where the coastline is flat; in places where the hills come down to the sea, and up and down the Spanish Mediterranean coast, there are still small towns that have remained essentially as they were before the age of mass tourism. Of course, they have all grown, and seen development of their own, but this has been more often in the form of privately-built holiday villas, clinging to hillsides or nestling in the pines. There is perhaps only one very small village on the whole Mediterranean coast of Spain that has not had its face changed by an influx of tourists even if, today, few of its inhabitants are Spanish. The original inhabitants have moved out, as this village has no road leading to it, and can only be reached by boat. It is a beatiful idyllic spot, and its name and location will not be revealed here, in the hope that perhaps it can remain as it is.

Spain's Atlantic coasts
Apart from the Mediterranean, Spain has Atlantic coastline - from Tarifa to the Portuguese border in the south, and all along Spain's northern shores. Generally speaking, these areas are far less visited than the Mediterranean coast - in the south because of the distance, and in the north because the Atlantic coast, on the Bay of Biscay, does not benefit from the same reputation for sunshine and warm seas as the Mediterranean coast does.
Tarifa, the most southerly town on the European continent, is a delightful spot, much favoured by surfers, as the coast here is rather windy. From Tarifa, there is a view over to the Atlas mountains in Morrocco, on the other side of the Strait of Gibraltar - through which Atlantic winds blow into the Mediterranean basin.

The north coast of Spain
As for the northern coast of Spain, it can be divided into two parts; east and west of Santander; to the east of Santander, the coast has seen a certain amount of modern development, specially close to the cities of santander, Bilbao and San Sebastian; but there are few areas of coastal plain on this rugged Atlantic coast, buffeted by the storms of the Bay of Biscay, and even in this area, there are plenty of small coves and beaches, sometimes not too easy to get to, between the urban zones and areas of more intensive tourism development.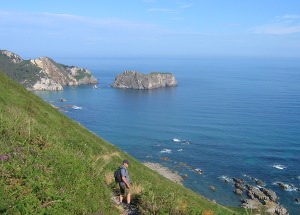 The coast of Asturias


West of Santander lies the rest of the Cantabrian coast, and the coasts of Asturias and of Galicia, the "Celtic" regions of Spain. The coast alont this northwestern part of Spain is very attractive, with cliffs, rocks and sandy coves and beaches, but without the crowds. Until quite recently, it seemed to be a secret that knowledgeable Spaniards kept for themselves.
This part of "green Spain" is ideal for camping and outdoor pursuits. It has a temperate Atlantic climate, with warm summers and a chance of rain in any month, but not too much of it in the summer months - just enough to keep the fields green in a normal year. And inland, there are mountains to climb - including the impressive Picos de Europa, interesting places to visit, and a delightful rural area to enjoy.

This page is to be completed.



Some useful sources of accommodation information: