About-Spain.net - the alternative guide to Spain

►

en français :
Les trains en Espagne
Map of the Spanish rail network - updated to 2019
(with all open high speed lines)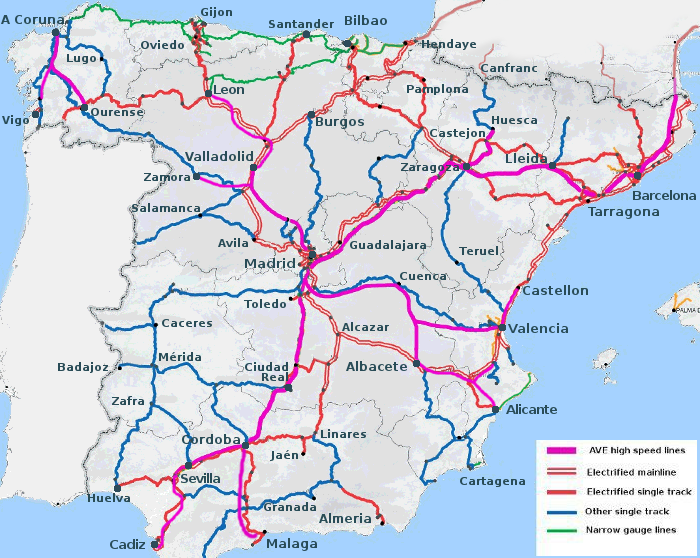 Book Spanish train tickets online now

Visit
Trainline.com
- Tickets in or to Spain at best prices. No surcharge, no fee, all options.
Trains in Spain
The trains in Spain go fast across the plain.... or so one could say today. It surprises many travellers to learn that Spain now has Europe's most extensive high-speed rail network, with over 2500 km in service and many more under construction. For instance, work on the northwest AVE high speed line, from Madrid to A Coruña, is still ongoing.
Historically, Spain had a rather slow rail network that was to all intents and purposes cut off from the rest of Europe; while other parts of Europe use the standard European (4′ 8
½
″ or 1435 mm) gauge, Spain and Portugal built their railways to a broader gauge, 5′ 5
⅔
″ or 1668 mm. So until 2011, no Spanish trains could connect with the rest of Europe, without either having to disembark all their passengers or freight, or use complex variable-gauge rolling stock.
The new high-speed network uses European gauge: services already operate, at speeds of up to 320 km/h, connecting Madrid with Seville, Malaga, Valencia, Alicante and Barcelona. Many more sections are under construction, . Direct high-speed services are now in operation between Madrid and Paris. High-speed services also operate at up to 200km/hr between Barcelona and Valencia, on Spanish gauge tracks.
Where high speed routes exist, trains are rapid and comfortable. Where they do not exist, trains are medium fast to slow, depending on the route. Spain's relatively few double-track electrified routes offer good and comfortable inter-city services; but the relative scarcity of these lines goes some way to explaining Spain's determination to set up a good twenty-first century high-speed network.
Tourist trains and railway museums in Spain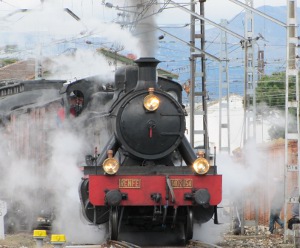 One of the few working steam locomotives in Spain - often used to pull the Strawberry Train
Steam trains are rare in Spain, and there are only a handful of mainline steam locomotives that are able to haul special trains on the rare occasions that such are organised. Each year a number of special excursions are organised from Madrid. The best known of these is the Tren de la Fresa, or Strawberry train, a train using historic stock and running weekends from Madrid to Aranjuez and back.
The Strawberry Train is organised by the
Madrid Railway Museum
, one of the best railway museums in Europe. It is housed in the former Las Delicias station, designed by Gustave Eiffel, and has a fine collection of steam locomotives, diesel and electric locomotives, and historic rolling stock.
The best railway museum in Spain is without doubt the
Catalonia Railway Museum
- or
Museu del Ferrocarril de Catalunya
- located at Vilanova i la Geltru, half way between Barcelona and Tarragona. Housed in an old locomotive works, with roundhouse, this museum has a large collection of historic steam locomotives, plus lots more to discover.
Spain has two other interesting railway museums, one in Gijon (
Asturias
), and the other at Azpeitia, southwest of San Sebastian, in the Basque country . This Basque Railway Museum is devoted to Basque narrow gauge railways, and has a collection of historic electric and steam locomotives. Steam trains operate at weekends from April to November.
Heritage railways in Spain

Northern Spain:
Spain does not have much in the way of
heritage railways
: the Azpeitia railway (above) was formerly part of a large system of narrow gauge railways along Spain's mountainous northern coastal regions. A lot of the system is still in operation, and run by Spain's "other" railway company ,
FEVE
- Ferrocariles de Via Estrecha. The network of metre-gauge lines runs from near the French border at Irun to Ferrol on the northwest tip of Spain (in green on the
Spanish rail map
above). Tourist trains operate from Bilbao to Ferrol and Bilbao to Leon. The trains are modern, but not fast; the service from Oviedo to Ferrol, for example, takes six and a half hours, and Santander to Oviedo takes four hours.
Southern Spain
At the other end of Spain, a little-known but fascinating tourist attraction is the Rio Tinto Mining railway (
website
), near Nerva, northwest of Seville (
Huelva province
, Andalucia). Once over 300 km of railway track served this vast opencast mining site; today, 11 km of track have been relaid, and trains run daily from March to November, with steam trains on the first Sunday of each month. The park also has a mining museum, and mine tour.
Catalonia:
In the northeastern region of
Catalonia
, there are two tourist rack-and-pinion railways. In the high Pyrenees, north of Ripoll (province of Girona), the Vall de Núria Rack Railway runs 15 km from Ribes de Freser to Queralbs and the family ski resort of Vall de Nuria.
The other Catalan rack railway is the Montserrat rack railway, near Barcelona, which takes visitors up to the breathtaking viewpoint and pilgrimage point of Montserrat, just inland from Barcelona. This railway closed in 1957, but was reopened in 2003.
Another tourist railway starts ot Lleida. The Tren dels Llacs runs on Saturdays to La Pobla de Segur, in the foothills of the Pyrenees, and sometimes operates steam services using a historic Beyer Garratt locomotive; but information on this is hard to come by. Lleida is also home to Spain's only historic locomotive repair workshop (
site
).
►
You may also like to visit...
Scenic railways in France
or
Steam heritage railways in Britain
Photo top of page - high-speed train on the upgraded Euromed line, running between Barcelona and Valencia
Changing gauges.
Until 1992, all Spanish trains ran on tracks using the
Iberian gauge
of 1.668 metres, which is wider than the
standard gauge
of 1.435 metres used by national railway networks in the rest of western Europe.
This made the operation of through trains between France and Spain impossible, until the first Talgo 3 variable-gauge carriages were introduced in 1963 on a through service from Barcelona to Geneva. In 1973 a different system was introduced for the Paris-Lisbon sleeper service, using carriages that could be lifted off their standard-gauge bogies at the border, and put down on Iberian-gauge bogies, or vice-versa: but changing bogies was a slow task, and never caught on. Apart from these special trains, all other rail passengers between France and Spain had to disembark and re-embark on another train at the grandiose border train stations at Port Bou or Hendaye.
So when in the 1980s Spain launched its high-speed rail plan, it did so with the aim of integrating the Spanish rail network seemlessly into the European netwo rk, which involved building new AVE routes to the European standard gauge. That was fine for routes that were 100% AVE from start to finish, but led to a new problem, how to interconnect Spain's new AVE lines with the rest of the network, where necessary.
Necessity, as they say, is the mother of invention; and in this case necessity has made Spain into a world leader in the development of variable gauge trains and dual-gauge tracks. South of Barcelona a section of the Euromed route - a high-speed line upgraded from an existing line - is now dual gauge, the tracks having three rails in order to accommodate trains of either gauge. Elsewhere, and in particular on routes to Northern Spain, Renfe has fleets of variable gauge AVE high-speed trains, which can run on the old network as well as the new one. They can even change from Iberian gauge to standard gauge, or the reverse, without stopping, as they pass through gauge-changing points at the intersection between new routes and old ones.
Will Iberian gauge ultimately disappear? Not in the near future, that is for sure; but the need for seamless rail freight links between Spain and the rest of Europe may eventually lead to a national changeover, probably via the generalisation of dual-gauge lines as an intermediate stage. It was the need to allow freight trains from the rest of Europe to reach the port or Tarragona that led to the installation of dual-gauge track south of Barcelona. The Spanish government now plans a new dedicated standard gauge freight line down as far as Valencia.
Text and photos on this page copyright © About-Spain.net 2008 -2022 except for.
Photo (top) by Luis Zamora - licence Creative commons.
Map by About-Spain net based on an original from the Spanish Ministry of public works.