►

Les grands sites d'Espagne
Site menu ►




How to travel

The best of Spain

Regions of Spain

Spanish life
About-Spain.net
- the alternative guide to Spain
Top attractions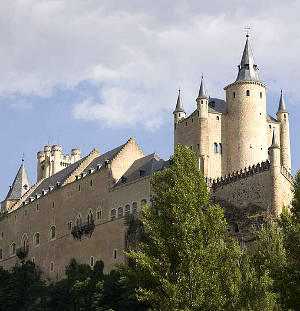 The Alcazar in Segovia Photo P.Maeyaert
While Spain's top tourist attractions are undoubtedly its
beaches
, beyond the beaches, Spain has litterally thousands of heritage tourist attractions, spread throughout the country. Some are well-known and much visited, others - off the beaten track - are largely ignored by tourists passing by.
These chapters of About-Spain.net present the most important
heritage tourist attractions
in Spain, by category. For information on the tourist attractions of specific regions of Spain, see regional guides.
Spain has a cultural heritage that is unique among the countries of western Europe in many ways, but most significantly in so far as it is the only country of Western Europe whose heritage has been significantly marked by the art and architecture of the Islamic world.
Spain's heritage is the result of the intertwining of three main threads, classic European Christian culture, Islamic culture brought over from North Africa, and Jewish culture. Over the centuries, Spanish art and architecture adopted exuberant styles, that can be seen in various forms today, from the arabesques of Granadan art to the lavish baroque and platresque styles of more recent centuries.
1. Spain's best tourist cities
These are the most visited tourist cities in Spain: but they are just the icing on the cake. Some twenty Spanish cities contain or are themselves listed as UNESCO world heritage sites; the four below are on the tourist trail, other Spanish cities are less visited (see
undiscovered Spain
)....
Best rates on hotels in Spain
Booking.com
offers unbeatable online rates for hotels. Check out the following areas :

Costa Brava
Barcelona
Andalucia
Valencia area
Madrid area
Castile
Aragon
Other areas
About-Spain.net
is partnered with Europe's leading hotel booking portal,
Booking.com
, to bring you the best online prices
2. Spain's best classical antiquities
Hispania was an important part of the Roman Empire, and Roman remains are to be found in many parts of Spain. The most important vestiges of Roman Spain can be found at.....
3. Spain's Moorish heritage
Eight centuries of Moorish presence in Spain profoundly marked Spanish culture, and gave Spain some of its most visited heritage tourist attractions.
Granada (Andalucia) : Granada's Alhambra is the most visited heritage site in Spain.

Cordoba (Andalucia) :

La Mezquita, or the old Mosque, is over 1000 years old, and was once the second largest mosque of Islam.
► More details and
more Moorish sites in Spain
4. Best Spanish Museums & Art Galleries
Spain has some of Europe's great museums and art galleries, located in a number of cities across the country. While Madrid's Prado museum is a clear "first" in any list of Spain's best museums, the ordering of the runners-up is liable to be a matter of personal preference
5. Top Spanish castles and fortresses
Centuries of conflict between Christians and Muslims in Spain have left a heritage of litterally thousands of castles and fortresses throughout Spain. Several of these are among Spain's major tourist attractions, and among the most impressive in Europe.
6. Natural heritage - outdoor Spain
Most of Spain is sparsely populated; the dry climate of much of the Meseta - the upland plateau that includes a large part of the country - has ensured that Spain has to this day thousands of square kilometers of unspoiled country - mountains, plateaux and plains. There are amazing landscapes to discover and explore throughout Spain. Here are some of the best areas - a small selection of some of the best natural environments that Spain has to offer.
7. Other tourist attractions
Just a couple of the hundreds more interesting and varied attractions that Spain has to offer.
► More topics:
Spain's finest cathedrals
,
walled cities
, natural heritage areas