About-Spain.net - a whole country to be discovered....

The finest walled towns and cities in Spain
City walls from Roman and medieval times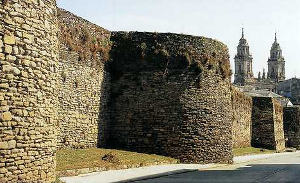 The roman walls of Lugo, Galicia - Photo J.M.Lage
There is something special about a walled city; a connection with the past, that remains only in a few of the towns and cities of the modern-day world.
Yet there was a time when all major towns and cities were surrounded by city walls or ramparts. From pre-Roman times until the Renaissance, city walls were often a vital barrier for townsfolk against attack from marauding invaders. Urban historian Lewis Mumford saw walls as the vital expression of urban unity and superiority; yet from the sixteenth century onwards, with growing wealth and populations, most towns and cities in Europe began to expand beyond their old walls, to the point at which they became redundant and in most cases - sooner or later - torn down.
Yet in places off the beaten track, towns and cities that grew little between the 16th and 20th centuries, or places that continued to need fortifications, or that lost an importance they once had, city walls remained in place. There are walled cities all over Europe and the old world; there are even three walled cities in north America; but of the walled cities that remain to this day, some of the finest and most intact are to be found in Spain. Some are well known; others are small, off the tourist track, and pretty well unknown except to locals..
Fully walled and almost fully walled cities

Places that have been important since Roman or medieval times.
Best rates on hotels in
and near Spanish walled cities
Booking.com
offers unbeatable online rates for hotels. Check out the following areas :

Segovia
Ciudad Rodrigo
Lugo
Plasencia
Avila
Peniscola
Morella
Niebla
Other areas
About-Spain.net
is partnered with Europe's leading hotel booking portal,
Booking.com
, to bring you the best online prices
Fully walled and largely walled small towns

- mostly off the tourist trail
Niebla (Huelva, Andalucia)

. *** With over 2 km of walls, 50 towers and five gateways, Niebla is one of the most completely walled towns in Spain. Built in Moorish times, the walls are made with reddish clay from the local valley, giving them a particularly Moroccan look

Morella (Valencian Community) .

*** Almost complete 14th century fortifications - built on top of earlier Arab ramparts, surround this small and attractive hilltop town, some 50 km. inland from Peñiscola. Fine walls and city gates. Castle. Visits. It's a good climb to the top of the castle - but views from the top and near the top are fantastic

Galisteo (Extremadura) ***

Far off the tourist trail, and in sparsely-populated western Spain, few visitors reach the little town of Galisteo, still fully enclosed within its mediaeval ramparts, originally built by the Moors. Three narrow gateways are the only ways into the town. Free access to the ramparts.

Albarracín, (Teruel, Aragon)

*** A hill town, clinging onto steep slopes, and almost fully surrounded either by ancient ramparts or by the river below. A very attractive small town, located 30 km west of Teruel

Palazuelos (Guadalajara, Castile la Mancha)

. ** Not much more than a fortified village, and well off the normal tourist trail; but Palazuelos, near Siguenza, 120 km northeast of Madrid, is a gem

Peniscola (Valencian community)

: the old town stands on a rocky outcrop jutting into the Mediterranean sea, but the landward side of its isthmus is protected by defensive walls.

Buitrago del Lozoya (Madrid community)

* Located 80 km north of Madrid, right beside the (free) A1 motorway from Burgos, the old part of this small town, encircled by mediaeval walls, is in a loop of the river Lozoya. There is a small Picasso museum here.
Some other Spanish towns and cities with interesting walls or city gates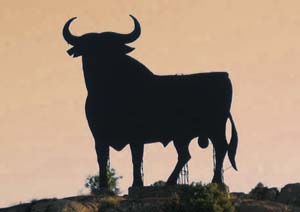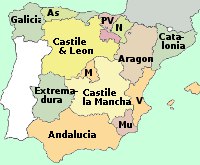 Photo top of page : the small city of Morella, in northern Valencia province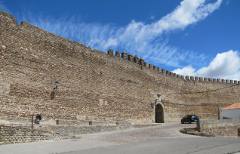 The small town of Galisteo, Extremadura, completely enclosed by its ramparts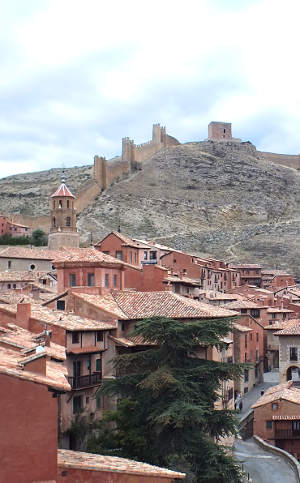 Albarracin - one of Spain's many ancient walled cities
Visit our companion guides:
Copyright © About-Spain.net 2010 - 2019
About us
Text and photos copyright © About-Spain.net 2012-2019, except where otherwise indicated.